Illinois Numismatic Association (ILNA)
---
Promoting Numismatics in Illinois Since 1959
ILNA at 2022 World's Fair of Money ANA Rosemont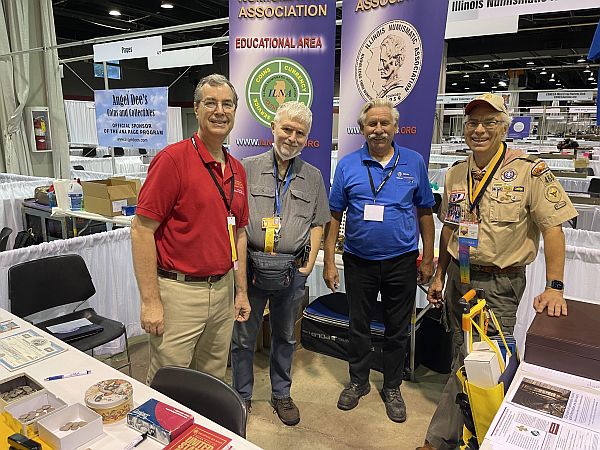 ILNA governors at the education and outreach table.
08/20/2022 - John Kent
Show Report! World's Fair of Money 2022
What a week! I was a volunteer for 6 wonderful days at the Donald E Stevens Convention Center in Rosemont, starting at 9am and finishing about 5pm. My official title was assistant page chair from the Chicago Coin Club host committee, but that hardly describes what I accomplished at this years ANA convention.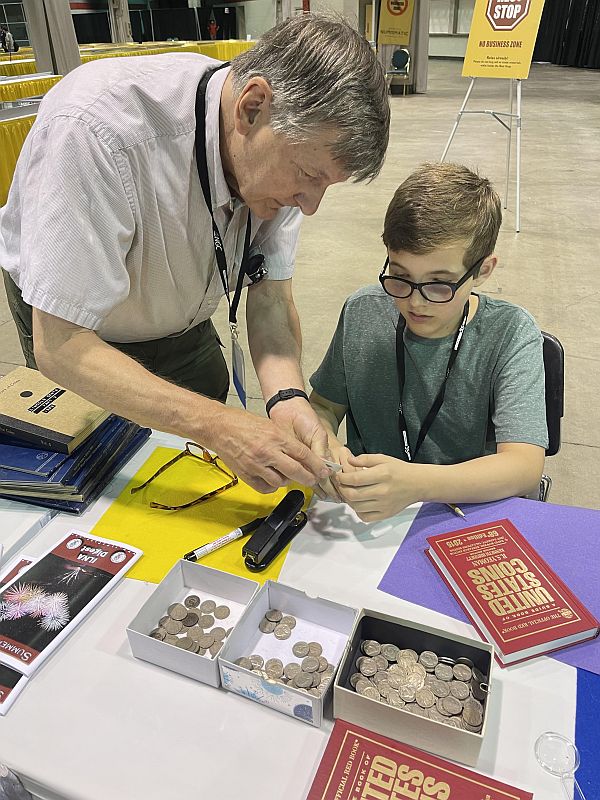 Learning about coins is a fun family activity
Monday was Dealer Day, and it was very busy! We helped dealers get setup, and responded to their needs, as they transacted numismatically. By the end of the first day I had seen stacks of 20 dollar gold pieces trade hands and 6 figure checks being exchanged. That was a real eye opener, especially since the dealers treated this as an ordinary part of their business, and everyone was all smiles. Exhibitors began setting up their exhibits, and everything seemed like it was coming together perfectly, for the opening day on Tuesday.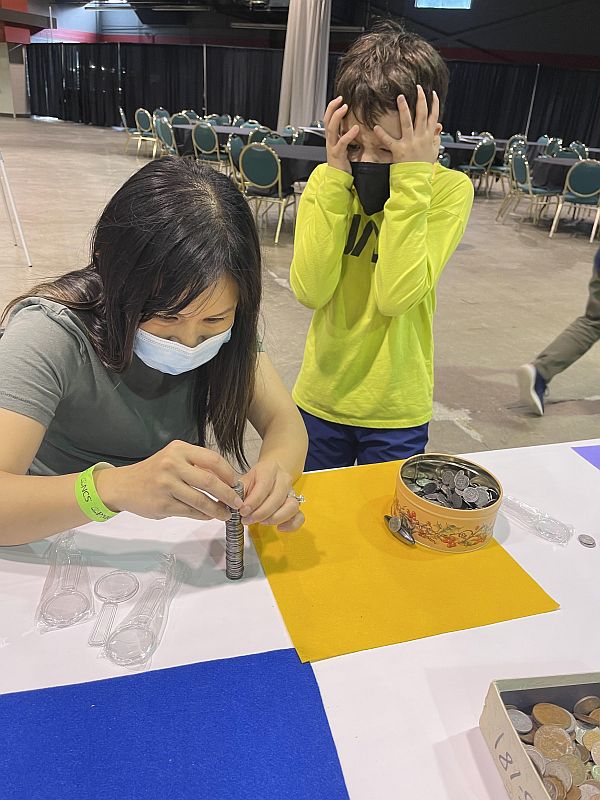 Mom stacks 100 steel cents!
The next several days were something of a blur as everyone was busy from open to close. Especially memorable was the ribbon cutting, welcome speeches, and presentations given on Tuesday morning. Watching the attendees line up at the entrance, then crowd onto the bourse floor all at once! Abraham Lincoln and Ben Franklin set up at the show, The ANA Money Museum and the US Mint had awesome displays. I was able to attend Money Talks about chop marked coins and ancient Roman coins. Lots of other club meetings and awards banquets too, always fun to meet collectors from other states and countries! Saturday was the best day for me, as I was a volunteer at the ILNA education table, along with Tom Canoles, Jim Ray, and Richard Prouty. We really enjoy helping YN's and their families learn about steel cents, buffalo nickels, and world currency & coins. We helped kids look up coins in The Redbook, then stapled their coin into a 2x2 flip, and labled with date, condition, and value.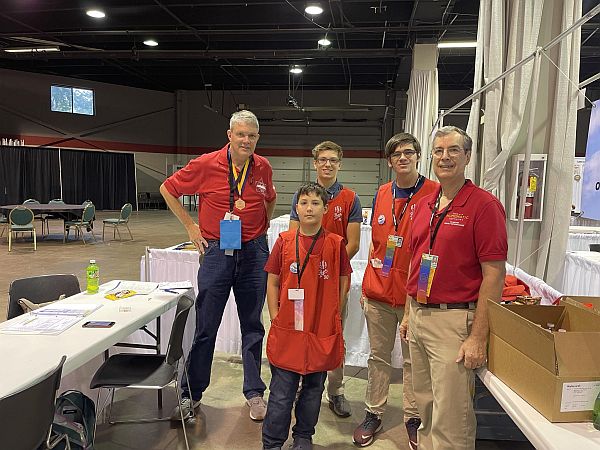 YN pages had a busy show!
Besides learning about coins, we gave out more than 30 coin albums, and lots of ANA materials for YN's. We also gave out ILNA Digests and invited collectors to attend local coin clubs and shows. There are many different ways to collect coins, and every show I learn something new, and begin new friendships.
But all good things must come to an end, so we packed up our ILNA booth late Saturday, said goodbye to the pages and ANA staff, and headed our separate ways, until we meet again in Pittsburgh!
John Kent
ILNA Governor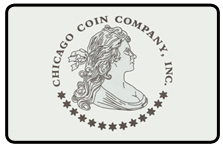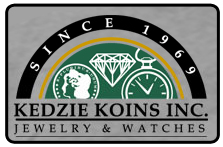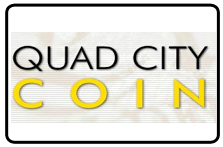 To become a sponsor of the ILNA web site or Annual Show, contact
Jim Paicz