Illinois Numismatic Association (ILNA)
---
Promoting Numismatics in Illinois Since 1959
Best Ever Youth Auction at Elgin Coin Show!
Excitement filled the room, at the Fall Elgin coin club show & youth auction. Thirty minutes before the announced time of the auction, bright eyed kids and their smiling parents assembled into a tight-fitting conference room. There was an air of anticipation, for all the fun to begin. Generous coin dealers from area shops had donated a total of 96 auction items! Our highly capable auctioneer and lifelong coin collector, Art Schattke, began his introductions. He laid out clear and precise details of each auction lot. Instead of a bidding paddle, each young numismatist received a Whitman tri-fold coin book with a yellow post-it sticky, numbered from one to twenty three. To receive one, you had to line up and present yourself at the podium and provide your name. That was it, very simple! Then Art announced, "at the end of the auction the coin album is yours to keep", which created some heightened excitement. Art then announced each participant would have $250 bidding bucks, to acquire the lots they desired. The crowd erupted and applauded with shouts of glee, $250 is a lot of money for a kid to spend! Art further assured the happy crowd that, "odds are good that each participant would likely go home with three numismatic gems". The excitement jumped a notch higher, and the smiles broadened. Some of the shyer children seemed to shrug off any anxiety they had felt. Now they were in the game to take home a highly desired item!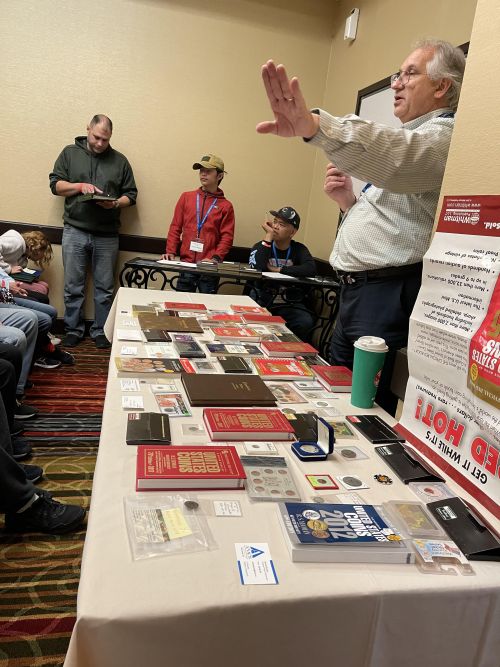 When the bidding began, it was fast and furious. Five dollars, ten, fifteen, twenty and up the bids went! Several items went for premium prices initially, as the excited hands jumped into the air holding the numbered bid books. I saw a brown leather book of Canadian cents go for $90, a huge premium! I saw some smarter collectors catch on, bidding up the prices early on. They wanted the excited bidders to run out of their bidder bucks early. There were coins called ancients. One went for $120. There was a small coin made of cut silver wire that fetched a $60 premium. It appeared to be just a fleck of sliver stamped with some crest of a long ago kingdom. My mind wondered, as I imagined this small fleck in a coin pouch of an armor-clad knight with mace and sword in hand!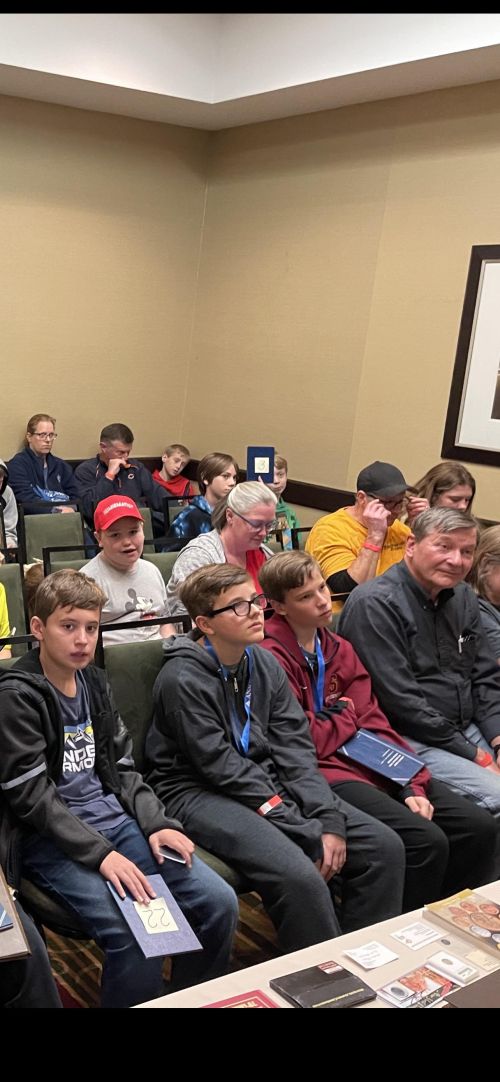 On and on, the items were lifted high by Art, the bidders thrusting up their bid boards. Winners were announced and worthy sidekick Tommy C, delivered the treasures to the winning bidders. The number of available items dwindled and so did the bidding fury. Some kids were running low on funds, and bids were now weighed intelligently and with great caution. Then at last, we were down to one item. "Who has the most available cash"? Someone asked. Number 6 has $125 dollars, the auction accountant announced. One young man had been very conservative, and he patiently waited, until the last 10 items or so, to make his "move". Yes, he garnered the last coin, minted in some 12th century fiefdom, I don't recall the name, never heard of it! But the coin was silver and twinkled as I handed it over. Triumphantly he smiled, the auction was completed, and Art received a round of applause. Then all the parents and kids departed, meandering onto the show floor. What a great time we all had! Just observing the kids and the parents enjoying their numismatic hobby at its best. I saw only wide smiles and bright happy eyes as we followed them out, back to the coin show. Now it was my turn to hunt out the coins I needed, so I purchased a 1929 $2-1/2 Gold Indian -MS 62. Then I only had to search out that last $2-1/2 Gold Indian, but didn't find it. It's dated 1914 with a Denver mint mark. Sound familiar? It's the same dated penny, I relentlessly hunted for, in my youth. 1914-D!
John Kent, the ILNA force behind youth education and promotion of our worthy Coin Collecting hobby asked me to put together my thoughts on the Elgin coin show. I was reluctant, I'm not a writer, nor a journalist. But I had a very good time being there! I recalled my youth and the excitement of finding a rare "S" penny or quarter. Life was very simple back in the late 50's and 60's. So, small coin finds excited me and kept me on the hunt for that 1955 double die penny or copper 1943 cent. I only hope the excitement of our hobby and finding a cherished coin, or completing a series of coins will be further enhanced by the fun experienced at the Elgin Coin Club Fall coin show Youth Auction.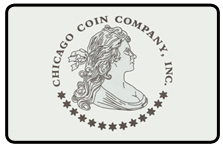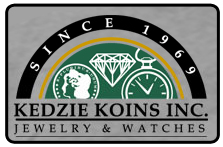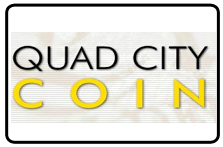 To become a sponsor of the ILNA web site or Annual Show, contact
Jim Paicz