Illinois Numismatic Association (ILNA)
---
Promoting Numismatics in Illinois Since 1959
Content presented in the Education Section is not necessarily researched or independently fact-checked, and views expressed do not necessarily represent those of the Illinois Numismatic Association. It is presented for educational purposes.
Buying on eBay
Article appeared previously in the ILNA Digest
I have collected encased coins for many years. These tokens are rarely available at a dealer's shop or table at a show. There are sometimes a few, but never enough to satisfy my desires or needs. To solve that problem I turned to eBay. On eBay there are thousands of listings for encased coins. As a result of looking closely at listings on a daily basis I learned a bit about buying on eBay.
I have found out the hard way and at some expense that "buying the book", or at least knowing about your collecting area before you invest is important. With encased there is no book that will let you know what is rare or common. With US coins you have the "Red Book" to use as a reference source. With encased I had only my interest in collecting them. If you know your collecting desires you are all set. Before you begin buying, search eBay for the coin(s) you are interested in obtaining. The eBay site is organized by category. Coins and currency are listed under "Collectibles & Art/Coins and Paper Money". The search box at the top center of the page has a drop down list to get you started. Once you have found the category you are interested in watch the listings for a couple of weeks. Watch the prices and get a feel for how coins are offered and what the terms are for shipping. There are listings that will offer you everything from one coin to bags and boxes of them. You may find complete collections, and you may find that one specific coin you have been looking for.
Before you begin bidding you should read the eBay help section of how the service works. It fully explains how to bid, retracting a bid, automatic bidding, buy it now options, reserves, and second chance offers. I can't cover everything you should know in the article, so I recommend you read these help articles.
Here are some rules I follow when buying:
Ignore all "hype" about the item. Words like "Rare", "special", "one of a kind."
Don't believe everything that the seller says. Most of sellers are very honest, but some aren't.
If it is too good to be true then it probably is. There are few bargains to be had.
Think: "If you were buying the coin at a coin store, what would you pay for it?"
Think: "Is the shipping realistic?" A single coin can be sent for a single first class stamp. Look at what service you are getting for your shipping and handling. Is it worth the cost?
Look at the seller's ratings. Look at how many feedback scores they have. A new seller of an expensive item needs to be looked at closely.
Look at the terms the seller offers. Do they take returns? What is required to return an item? How often do they ship?
Decide what you are willing to pay including the cost of shipping and bid that amount, then leave it alone. Avoid a bidding war. If you are willing to spend $10.00, bid that and walk away. Automatic bidding will bid for you until you reach the $10.00. The way eBay automatic bidding works is that eBay will automatically increase your bid until you reach your maximum bid. So if the beginning bid is 99 cents and you bid $10.00, your initial bid is the 99 cents. If another bidder then bids $2.00, your bid will increase the minimum to $2.50. If additional bids are made yours will increase until it reaches $10.00. If another bidder offers $10.50 they will win.
When you first find a coin you like, then click on "watch", which will let you watch the auction to see if others are interested in the coin. Bid as late in the auction as you can. If the coin is offered for 7 days, watch until the last day and then place a bid. Watching lets you gauge the interest in the coin and how much it may sell for.
Be certain the item is what it stated to be. Counterfeit coins are being sold on eBay.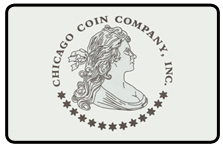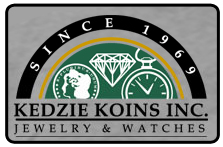 To become a sponsor of the ILNA web site or Annual Show, contact
Jim Paicz